AN OPEN BOOK FOUNDATION IS HONORED TO HAVE BEEN NAMED A 2023
LITERACY AWARD HONOREE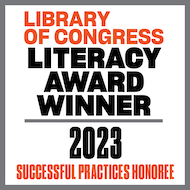 Over the past 14 years we've witnessed the impact that an author or illustrator visit can have on a student, and the power of receiving a signed book to keep. It's so gratifying to be part of a community that understands and celebrates reading through equitable access to books and to the authors and illustrators who create them.
OUR MISSION
An Open Book Foundation connects Washington DC-area students with authors, illustrators, and their books to nurture a lifelong love of reading.
We support educational justice by building equitable access to interactive literacy enrichment and high-quality books.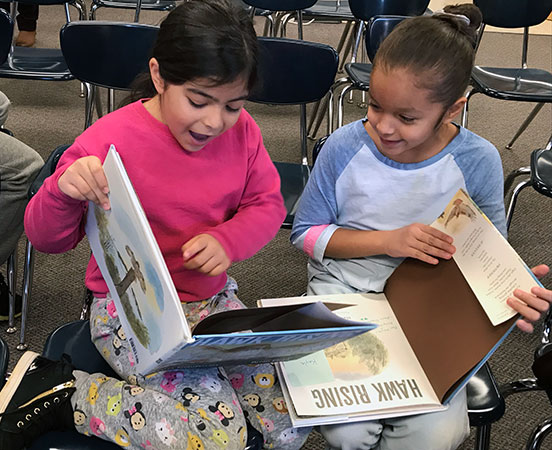 Maria Gianferrari • Hawk Rising • Whetstone Elementary School
OUR VISION: Children see themselves as readers, who use their written and visual literacy skills to navigate a complex world and define their own future.
An Open Book was created to provide access to books, authors, and illustrators. AOB's programs offer students in qualifying schools the opportunity to connect with authors, illustrators, and their books. Students receive their own signed copy of the featured book to add to their home libraries. Studies confirmed that growing up with home libraries boosts adult skills in literacy, numeracy and technological problem solving.
Some of our programs provide breadth—every year, our Flagship Program offers upwards of 10,000 students the opportunity to meet and interact with an author and/or illustrator. Some of our programs provide depth—an opportunity for students, teachers, and authors/illustrators to further explore a particular aspect of a book or a component of the writing or illustration process.
These personal connections are inspiring the next generation of storytellers.
OUR EVENTS
Our events reach students in PreK through Grade 12. Here's a sample. To stay up-to-date, follow us on social media.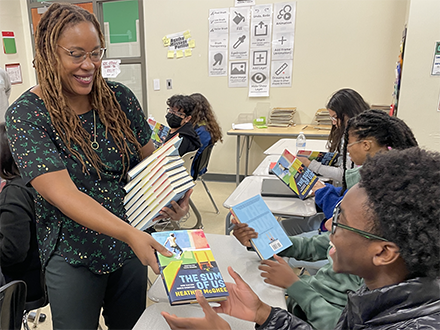 HEATHER MCGHEE AT IDA B. WELLS MIDDLE SCHOOL
Students listened to stories from The Sum of Us and talked about the importance of economic, racial, and social justice.
NICK BROOKS AT H.D. WOODSON HIGH SCHOOL AND EASTERN HIGH SCHOOL
Students were all ears during Brooks' interactive talk about Promise Boys.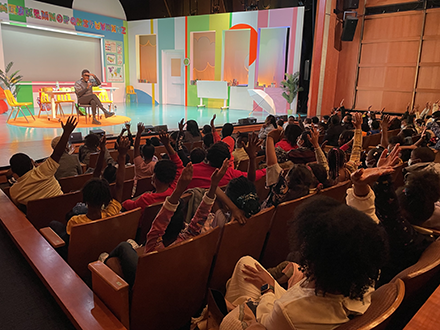 JACQUELINE WOODSON WITH HOUSTON AND CLEVELAND ELEMENTARY SCHOOL STUDENTS
AOB, along with 1st, 2nd, & 3rd graders took a field trip to the Kennedy Center to witness the debut of the commissioned musical, The Day You Begin.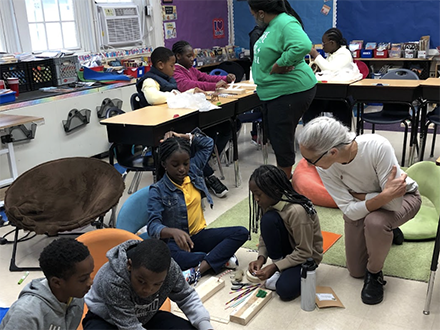 HEATHER MONTGOMERY AT JOHN BURROUGHS ELEMENTARY SCHOOL
Over the course of a three-day STEM Residence, students engaged in hands-on activities inspired by Something Rotten: A Fresh Look at Roadkill, building model bridges to transport wildlife.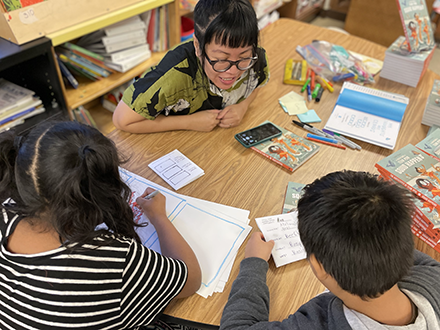 ISABEL ROXAS AT TWINBROOK ELEMENTARY SCHOOL
Students created their own characters and stories in a two day comics workshop inspired by The Adventures of Team Pom: Squid Happens.
MEG MEDINA AND ALEXIS ROMAY WITH THOMSON AND BANCROFT ELEMENTARY SCHOOL STUDENTS
In partnership with Planet Word, students visited the museum to learn about translanguage, language acquisition, empathy, and idioms. The featured book: Merci Suarez Changes Gears.
SINCE 2011…
SCHOOLS & INSTITUTIONS VISITED
AUTHOR & ILLUSTRATOR PRESENTATIONS
OUR IMPACT
An Open Book visits DC-area Title 1 schools. Since 2011, we have reached over 100,000 students, organized 2,500+ presentations, and donated more than 120,000 books.
ROLE MODELS
The generous authors and illustrators who donate their time and talent, and the publishers and literary agents who support their efforts, remain the backbone of An Open Book Foundation's event program. The connections authors and illustrators make with students lie at the heart of an AOB event. They not only share their books with students, they often share their personal stories and their individual journeys – providing a glimpse into possible career paths.
Participating Authors and Illustrators
An Open Book Foundation works with each author and illustrator to tailor each event; past presentations have included writing workshops, science demonstrations, work with primary sources, reading and Q&A, and art projects. Authors and illustrators who've participated in our program routinely describe their experience as impactful and meaningful.
RESULTS
Each year we survey educators and students after events. Here's what they have to say:
84% of educators could tie a flagship event directly to their classroom curriculum
100% of our artist-in-residence programs sparked new ideas and conversations among students
64% of students are more curious about a career as an author or publisher
65% will read the new book they received "right away" or "soon"
LITERACY PARTNERS
Essential to the success of An Open Book Foundation are the dedicated educators and administrators at the schools we visit and the authors and illustrators who participate in our events.
Hannah Barnaby • Garcia & Collette Go Exploring • Mary Harris Mother Jones Elementary School
Combining all our efforts, we look to inspire the quiet kid in the back who always thought she might have a story inside of her, but was never brave enough to believe it. Or the struggling student who finds math and English a challenge but thrives in art and needed to see where that might take him. Perhaps connecting with an immigrant student who truly benefits from seeing someone who understands what they are going through. Finally, connecting with so, so many children and teens through quiet little conversations that happen during book signings.
"I really liked being able to talk to an author who has published and is still writing. It helped me to see more what a future as an author would be like..."

HIGH SCHOOL STUDENT
"Thank YOU and the foundation for bringing me to such awesome schools. You guys have such a unique ability to remind us authors/illustrators what making books and sharing books is all about."

RUTH CHAN

AUTHOR - ILLUSTRATOR
"I know they will treasure their books for years to come. I wish you could have seen the excitement at dismissal! Personally, this event was a highlight of my teaching career."

2ND GRADE TEACHER
"It was almost like you could see the wheels turning in some of their heads as they thought about the fact that 'someone just like them was a real author.' Not only did it get them interested in reading the book, it made them realize that writing is possible too. I am excited to let you know that every single one of my students asked me if we could start reading the book on Monday. I have never had this level of excitement over reading a book before."

MIDDLE SCHOOL ENGLISH TEACHER
SUPPORT AN OPEN BOOK FOUNDATION
An Open Book Foundation depends on the generosity of donors of all types. We gratefully accept donations of any size.
An Open Book Foundation is a 501(c)(3) non-profit organization.
Jarrett Krosoczka • Hey, Kiddo • Theodore Roosevelt High School
INDIVIDUAL
Your contribution will have a direct, meaningful impact on the literacy of a child. Whether you donate $30 to purchase beautiful new hardcover books for 3 PreK students, $100 to cover the cost of a set of books for the school library, or $1,000 to fund books for an entire grade level, you donation furthers the number of students we can reach.

Since 2016, An Open Book Foundation has been recognized by Spur Local as "one of the best small charities in the Greater Washington region."
To donate online, visit our donation page.
To donate by check, mail your donation to:
An Open Book Foundation
508 Kennedy St. NW, Suite 309
Washington, D.C. 20011
To donate through your Donor Advised Fund, please contact your financial advisor or use DAF Direct.
To donate stock, please follow these instructions.
BEQUEST
Legacy Gifts to An Open Book Foundation
Your donations today make a difference in the lives of the students we serve by providing funding for our current in-class programming and book purchases. The sustainability of An Open Book Foundation ("AOB") for future DC-area students is equally important to us.
To that end, we gratefully accept donations to help us grow and strengthen the organization for the future, to ensure that the work of AOB will continue to make a significant mark on the children we serve by nurturing a lifelong love of reading. You can amplify your impact by including An Open Book Foundation in your estate planning.
INSTITUTION
Support from corporate and foundation donors is critical to the ongoing success of An Open Book. Our programs support equitable access to literacy, arts and humanities programs for students in low-income communities from early childhood through high school. While all of our events promote literacy, they also address specific curricular goals including ELL, S.T.E.M., Common Core, and fine arts.
Given the variety and number of An Open Book events, we are happy to match an event(s) with your philanthropic goals. If your staff is interested in seeing the work we do, contact us about attending an event by sending an email to [email protected].
Grants
An Open Book's funding sources include grants from local government, corporate and family foundations, public charities, and individual donors. 
Bookplates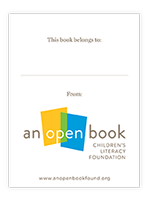 AOB places a printed bookplate label in every book a student receives. For individual, corporate and foundation donations of $5,000 or more, An Open Book will create custom bookplates with your name or logo to include in the books you've helped support.
ABOUT AN OPEN BOOK
Meg Medina • Merci Suárez Changes Gears • Takoma Education Campus
OUR STORY
An Open Book was founded in 2010 by former children's booksellers Dara La Porte and Heidi Powell. After years of hosting author events for and recommending books to young neighborhood customers, they continued to struggle with the fact that the vast majority of local students were unable to attend the store's author events or purchase the books.
After receiving unanimous encouragement from teachers, librarians, authors, illustrators and publishers Dara and Heidi used that positive energy to create An Open Book and begin to take authors into qualifying schools. By the end of 2011, they had hosted 11 events and given away more than 1,000 books to students and libraries.
CONTACT AN OPEN BOOK
Whether you'd like to join our newsletter mailing list, sign up to have An Open Book visit your school, or would like to talk about a nonprofit partnership, we'd love to hear from you.
An Open Book Foundation
508 Kennedy St. NW, Suite 309
Washington, D.C. 20011
Phone: 202 686 7115
Interested in learning more?
We'll send you our monthly newsletter with information and updates.
You can unsubscribe at any time.
Use this form if you would like AOB to visit your school. We work with schools where 50% or more of their students qualify for the federal free and reduced meals program.